Semi-industrial air conditioners - This is a device that does not belong to the group of household or industrial air conditioners. Their power ranges from 8 to 25 kW, and the field of application is quite wide. Such universal air conditioners can be used in residential and office multi-room warehouses, as well as in commercial and small industrial areas.
Semi-industrial air conditioners have a wide range of functional capabilities: direct air conditioning, air purification, centralized air conditioning management, multi-level air filtration system, warm running and many more.
Semi-industrial air conditioners are presented in different variants: cluster air conditioners, duct and column air conditioners, wall-mounted air conditioners, floor-ceiling and under-ceiling air conditioner

Based on our experience working with a variety of semi-industrial air conditioners, we rely on manufacturers Daikin and Mitsubishi Heavy appliances in our solutions. All the climate systems we offer meet modern requirements, are optimal in terms of energy efficiency, are safe for the environment and are economical.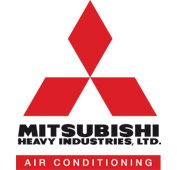 Contact us for qualified consultation:
03110, Ucraine, Kyiv, Solomenskaya str., 3-b, office 205
tel: +380 (44) 520 2030
fax: +380 (44) 520 2028
e-mail: infotel@infotel.ua