Contact centers (Call Center) – it is a modern technology solution designed to effectively process incoming calls to the company and automate the process of gathering information during marketing campaigns and customer calls. It includes a set of tools for conducting complex analytics according to both input and output activities, as well as the quality of work of the contact center.
The main tasks to be solved by the Contact Center (Call Center):
Ensuring continuity of sales and customer service business processes;
Distribute company specialists according to groups and functional areas to process different types of activities, different topics and target audience calls.
Intellectual distribution of incoming calls to the relevant specialists of the Call Center, formation of call queues in case the relevant specialists are not free.
Provide information to clients in automatic mode with the help of interactive voice menu (IVR) and the ability to involve any specialist in the company to get more detailed information on an interesting issue.
Plan and automate incoming call campaigns for customers to conduct various surveys, inform customers about new goods and services, promotions, discounts and special offers (active sales);
Improving the efficiency of internal business processes and improving customer relations through external communication channels, through integration with the company's information systems (IT infrastructure);
Reduce the time required to process incoming calls, sales of customer complaints and wishes regarding the sale of goods and services;
Monitor incoming and outgoing calls in real time, with the ability to redistribute workload between Call Center specialists.
Development of new products and services, tariff and promotion offers based on the analysis of the results of marketing activities and statistical data.
Quality analysis of incoming / outgoing calls by the specialists of the Call Processing Center;
Evaluate the level of customer satisfaction and loyalty to identify problem areas of the company's internal business processes in the products and services offered.
Modern call centers have extensive capabilities for integrating existing business processes with external information systems and databases: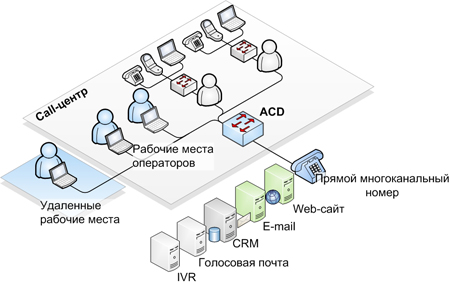 with different СRM systems;
with web resources and services;
with external databases;
SMS messaging services;
With corporate information systems (LDAP / Active Directory or SQL);
with billing systems;
Capabilities of modern contact center (Call center):
Ability to create a contact center fraud-resistant architecture (booking a software-hardware platform on 2 physical servers in Duplex mode (High-Availability));
Maintain individual routing rules for incoming and outgoing call specialist groups;
Maintaining call processing rules during non-working hours;
Formation of incoming call processing queues;
Automatic return of the number provided by the client (to any web-resource);
Constant monitoring of the call center specialist and reflecting the current status;
Ability to organize remote jobs for call center specialists;
Automatic delivery of information to clients without the participation of call center specialists (AutoAttendant);
Automated processing of customer referrals and calls with the help of a multi-level interactive voice menu (IVR).
Advance outbound campaign, formulate contact lists, special offers for products and services, list of queries for marketing research, and load outbound outbound modules).
Automatic calling of clients with the participation of a specialist of the call processing center, as well as using an automatic notification system (AutoAttendant);
Forming SMS messaging templates and conducting SMS sending with a pre-prepared database of contacts;
Permanent or optional recording of conversations by automatically deleting recorded messages after the number of days specified in the Contact Center features has expired;
Automatic receipt of faxes and sending them by pre-sent e-mail;
Submitting extended reports on the work of the company's call and call center specialists;
Introduce advanced reporting for automatic processing of multi-level interactive voice menu (IVR) system referrals.
Based on your requirements for functional capabilities and the business logic of processing incoming in-company appeals, InfoTel representatives will select the optimal solution for contact centers on the software platform of one of the leading telecommunications equipment and software manufacturers:
Atos Unify OpenScape Contact Center OpenScape Business
Atos Unify OpenScape Contact Center Enterprise
CallWay Contact Center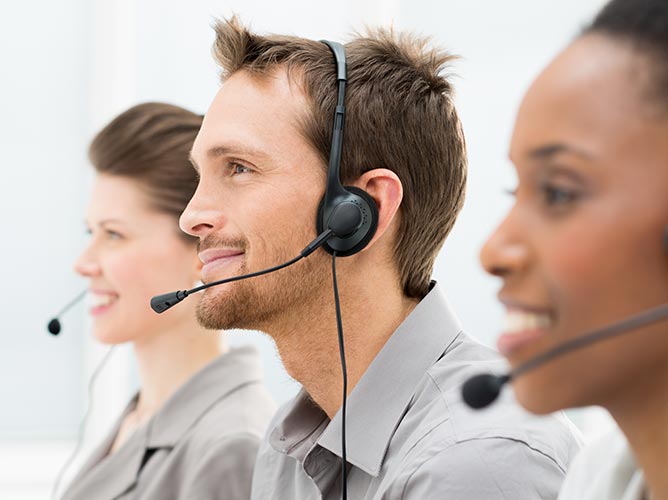 We have developed additional functional modules for contact centers on any software-hardware platform, as well as extensive experience in implementing individual projects and non-standard tasks. Our company's team of experts develops additional functional modules and user interfaces and integrates them with existing contact centers on its own.
Additional modules developed by our team are integrated with contact centers on the basis of any software-hardware platform without costly modernization. Another important factor is that the cost of our work to develop and implement additional functional modules is significantly less than the cost of implementing ready-made functional modules in existing contact centers of the world's leading manufacturers.
If you contact us, you will develop an architectural solution for free and select the necessary modules for the contact center. When preparing a technical solution, the specialists of our company take into account:
Individual requirements for functional capabilities;
Requirements for resistance to fraud and the viability of the whole complex and its individual elements;
Requirements for protection against external threats and unauthorized access;
Tasks for integration with other information systems and databases;
Peculiarities of the company's territorial structure and location of offices;
Existence of remote jobs, mobile employees.

A key advantage of our approach to individual projects and non-standard tasks is that all technical solutions and additional modules we have developed prior to commissioning and commercial commissioning are thoroughly tested on our company's test equipment. When introducing contact center modules that are designed to meet complex and individual requirements, the client is given access to the test environment for complex testing of realized functional capabilities. Installation of additional modules in the existing infrastructure of the customer is done only by a complex check of the working capacity of the new functionality (checking the workability in different modes, obtaining the required result in modeling different scenarios and situations), and after receiving confirmation from the customer
Vendors
Free of charge!
We will develop the architecture of the contact center for you.
We will select the functional elements of the contact center for you.
You have a difficult or non-standard task of establishing a contact center. Contact us! We will ensure its realization.